A Complete Guide to Get an IELTS Certificate
Preparing for the IELTS (International English Language Testing System) to successfully demonstrate your English language skills may be easier than you think, however it requires planning and focus.
Just keep in mind that all your hard work and dedication will pay off at a later date. A high IELTS score is a great achievement in addition to simply having an IELTS certificate. It will undoubtedly increase your self-confidence to communicate better in English, and you will feel more comfortable during your university studies, in your workplace, and even in your social life.
Here in this guide you will find information on scoring, costs, study resources, and the differences between IELTS General Training and Academic. All of this is sure to help you get started on the right track, saving you time and stress.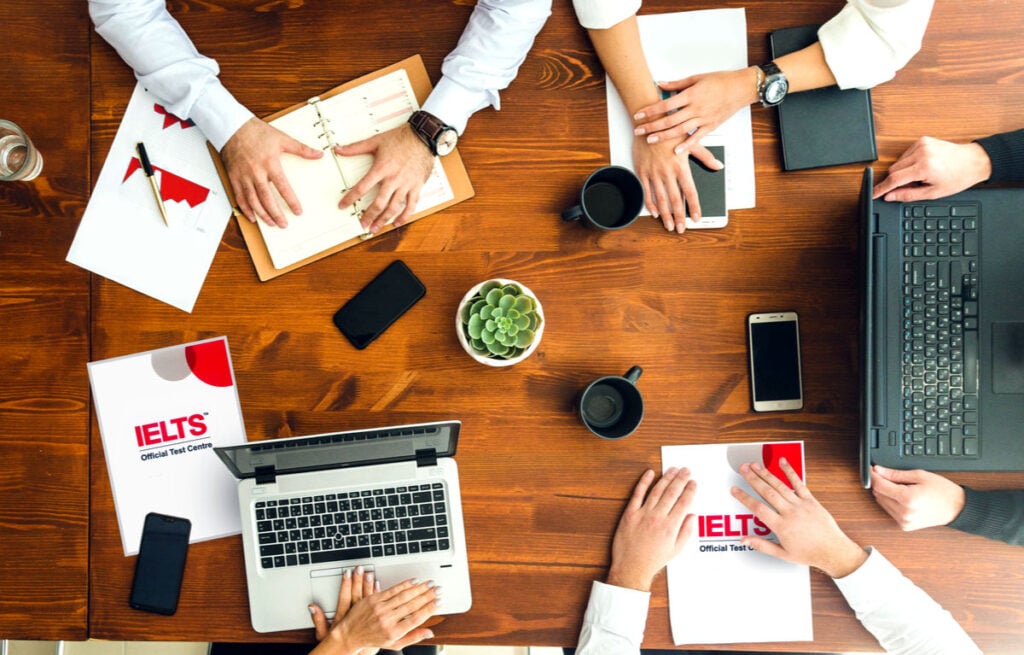 We encourage you to use this table of contents to quickly get started with the topics that are most of interest to your specific needs.
What is IELTS and Who Is It For?
IELTS stands for The International English Language System, and serves as one of the main standards when it comes to certifying students or workers who want to study abroad and who come from countries that don't use English as a native language. Universities and employers normally require that applicants be certified by IELTS, to demonstrate that they have the language skills necessary to work effectively.
As an organisation, IELTS consists of three member entities:
Cambridge Assessment
The British Council
IDP (International Education Specialists)
IELTS examines the student's competence in the four clearly categorised exams:
Reading
Writing
Listening
Speaking
There are two different versions of the exam that can be taken:
the IELTS Academic exam, and
the IELTS General Training exam.
The first is usually what universities expect from their international applicants (you will need to review the requirements of your preferred universities), while the second is the standard requirement for migration purposes in most English speaking countries.
Apart from the choice you have to make between Academic and General training, you also have to decide between taking the exam on paper or taking the exam on a computer.
Be aware that your certificate will remain valid for 2 years. After that you will have to retake the test.
Later on in this guide, you will find greater detail on each of these topics, you can also skip to that section directly if needed.
Before preparing for the exam, it is useful to know how it is structured, and the scoring system that is used for each section.
How Does the IELTS Scoring System Work?
It should be understood that with IELTS, there is no "pass" or "fail" grade. Instead, you are simply given an IELTS Band score that reflects your current level of English ability.
The question of whether your IELTS results are good or not depends entirely on what you need the certificate for!
Scores are given in bands from 0 – 9.
You find out your score from your exam when you receive your Test Report Form (TRF) through your local postal service. The exam results normally arrive at your address around a week after the exam took place if you took the Computer-Based exam, and usually two weeks later in the case of the Paper-Based exam.
You will find the following information on your score report:
Overall score
Score for each of the four modules (Reading, Listening, Writing, Speaking)
Your overall Band result based on a scale of 1 to 9 that uses increments of 0.5
| IELTS Band Score | Raw Score |
| --- | --- |
| 9 | 39-40 |
| 8.5 | 37-38 |
| 8 | 35-36 |
| 7.5 | 33-34 |
| 7 | 30-32 |
| 6.5 | 27-29 |
| 6 | 23-26 |
| 5.5 | 19-22 |
| 5 | 15-18 |
| 4.5 | 13-14 |
| 4 | 10-12 |
| 3.5 | 8-9 |
| 3 | 6-7 |
| 2.5 | 4-5 |
| Test score | Rounded final score |
| --- | --- |
| 6.125 | 6 |
| 6.25 | 6.5 |
| 6.75 | 7 |
The score you earn on your report is always rounded up or down to the nearest increment of 0.5.
The table shows some examples of how this works
Here is how the different sections of the IELTS test are scored.
Listening Score
The Listening section in both the Academic and General IELTS exams consists of 40 questions, with 1 point being awarded for each correct answer. You are not penalised for any incorrect answers, so always make an attempt to answer each question even if you're unsure.
Reading Score
Just like the Listening section, there are 40 questions worth 1 point each. The Reading module is known to use more complex and scientific texts in the Academic version of the IELTS exam than in the General Training version.
This is even reflected in the assessment method, as more correct answers are needed in the General Training exam to reach a score that the Academic exam would give for a smaller number of correct answers.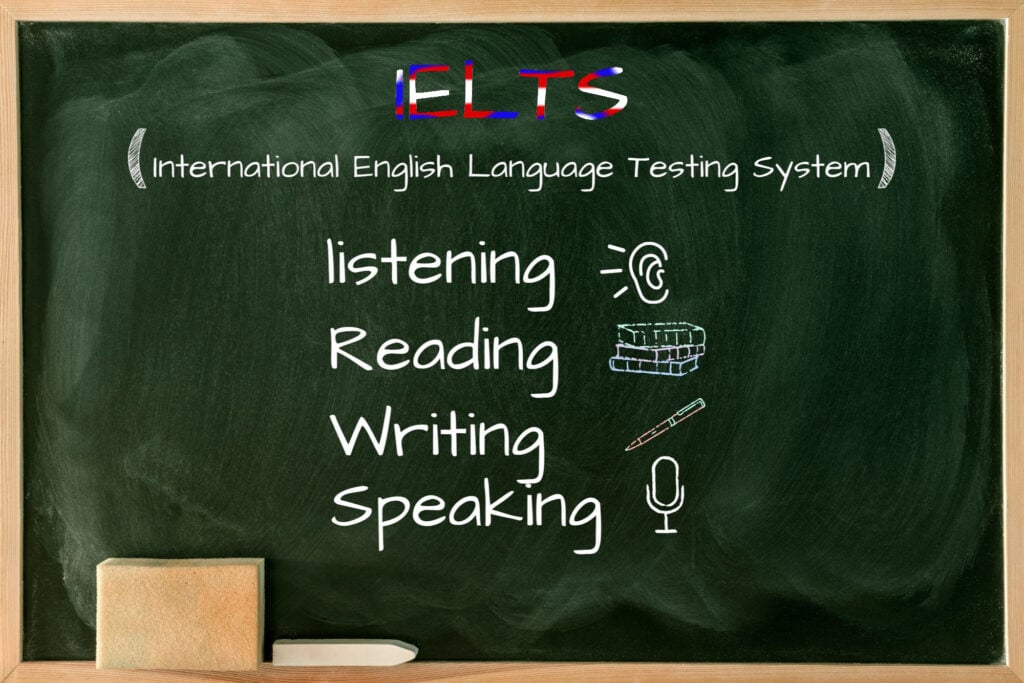 Writing Score
IELTS Writing consists of two writing tasks taken at different times, with the first one being a shorter task than the longer and more valuable second task. Each writing task is assessed by two different examiners, who then combine your scores to make your overall score for the Writing section.
Writing is assessed using four different criterion:
Task achievement. This refers to how much you successfully paid attention to the question and what you were really being asked to do. Reading the question carefully and making sure you have understood is of critical importance.
Coherence and cohesion. Another way to think of this criteria is "structure", and your ability to arrange your writing in a natural and logical order.
Lexical resource. You should aim to avoid repetitive uses of vocabulary and sentence structures, as the assessment staff from IELTS will grade your work more highly if you can confidently demonstrate variety and precision in your communication style.
Grammatical range and accuracy. As you would expect from the name, this criteria assesses your ability to use different grammatical structures in the correct and appropriate scenarios.

When taking your exam, you should be aware that each criteria counts towards 25% of your total score in the Writing module.
Speaking Score
The Speaking component of the exam takes the form of an informal conversation between the student and an IELTS examiner. Similar to the Writing module, this part of the exam is assessed according to four different parameters:
Fluency and coherence. This means that the examiner is noticing how often you hesitate, correct yourself, or sacrifice communication and clarity in favour of more basic language.
Lexical resource. The way to score highly here is to confidently use vocabulary that is less basic than other choices you could have made. This does not mean that you should be trying to impress your examiner with fancy words, but instead you should express yourself accurately.
Grammar range and accuracy. Sentences should be structured and grammatically correct. With that said, native speakers don't always speak correctly according to the ways textbooks teach the language, so if you have the ability to do so you should demonstrate how naturally you can speak.
Pronunciation. Some people have the misconception that good pronunciation involves eliminating your own accent as much as possible, but this is not exactly the case. What is important here is that you show an awareness of correct sounds and pronunciation.
Again, just like the Writing part of the exam, each category in the Speaking section is worth 25% of the total score.
Once you have earned a score for each of the four individual modules, an average is calculated from each result, and then your overall score average is either rounded up or down to the nearest increment of 0.5.
Why Choose IELTS?
International recognition. Although there are other organisations that offer English language certification, IELTS is by far the most established in the international sense. IELTS is the most commonly requested language certificate from universities in countries where English is the main language. One of the most popular alternatives is the TOEFL certification, but this is mainly relevant for living and studying in the United States.
Abundant testing facilities. IELTS has their own official testing centres in almost every country in the world, including private language schools that are certified to act as a testing centre for IELTS. For this reason, finding a place to get your certificate is easy.
A clear testing structure with plenty of learning materials available. The exams are divided into four modules, and you can expect the style of questioning to be similar across all exams. Due to the ubiquity of IELTS as a language certification, it's possible to find books and videos to support your learning.
Variety of tests depending on your needs. IELTS offers Academic and General Training, which are each intended for different purposes. Having the General Training option available is a positive thing for those candidates who are not students, because the materials used in the exams are easier and more forgiving.
Provides you with your results quickly. As the organisations behind IELTS know that workers and students are depending on their certificates to get accepted in their application process, the paperwork moves quickly when providing successful learners with their IELTS certificates. In the case of the computer-based exam, you could be in possession of your results just three days after finishing your final test.
Do I Need IELTS to Study in the UK, Australia, New Zealand and Canada?
If your nationality is that of a non-English speaking country, you will likely be asked for an IELTS certification from the organisation that you're applying to. You could also be asked to obtain certification from other trusted test providers such as TOEFL, but IELTS is the most commonly requested certification outside of the United States. In general, keep in mind that there are other more specific types of certifications depending also on the subject you want to study. For example, the GMAT certificate is required by many prestigious business schools.
For those people who are interested in living or studying in the United States, TOEFL may be worth your consideration.
Depending on which country you are coming from and what kind of experiences you've had in the past, there may exist the possibility of getting a waiver for this requirement. However, you should be aware that this is exceptional and not a common occurrence.
Another way of skipping the IELTS requirement that some universities offer is to take their on-site English competency test that they provide, which their own staff later assess and mark.
Again, this is not available in every institution, and most prospective students would be able to enjoy more peace of mind with the internationally-recognised IELTS certification.
What's the Difference Between General and Academic IELTS?
Your IELTS exam does not change significantly depending on which version you decide to take, because in most cases the question styles remain the same between the two types. With that said, there are some differences in difficulty that you should be aware of.
The main differences between IELTS Academic and IELTS General Training can be found in the Reading and Writing modules.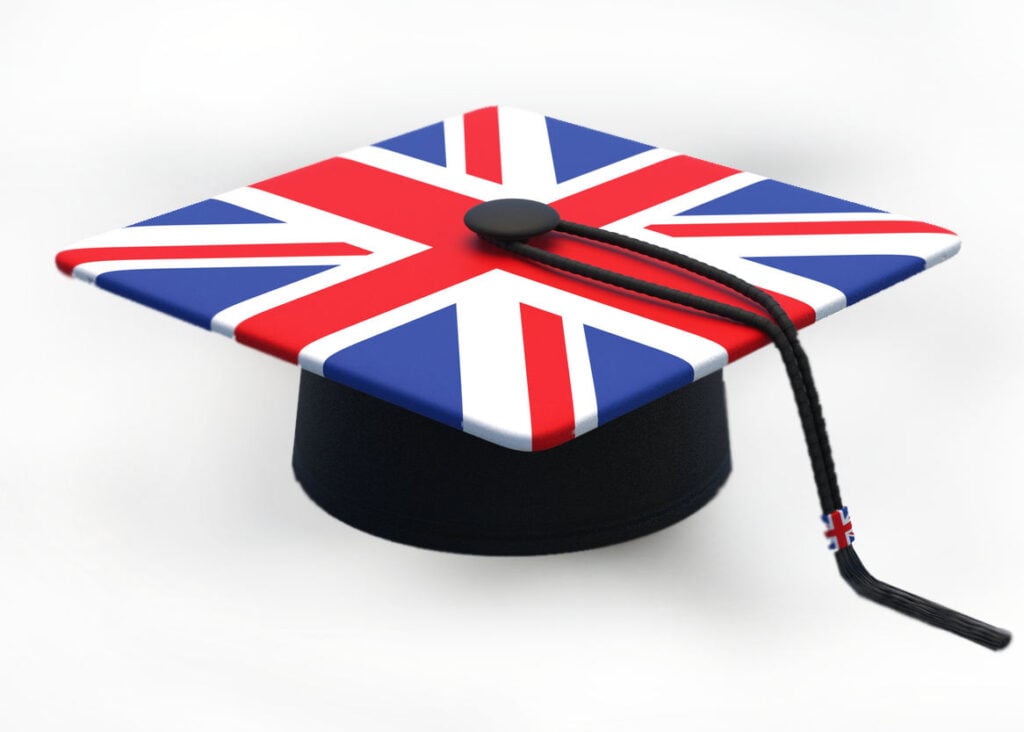 The Academic version of the Reading section uses articles that are both longer and more complex, often based on topics related to the sciences. The reason for this is to test the learner with similar materials to which they will be exposed in a university environment. Fortunately, however, whenever specialist or technical terms are used, the exam usually includes a definition for the user.
As has been mentioned earlier, the Writing task is divided into two tasks, and it is in this section that some of the biggest differences exist between Academic and General Training. Task one in the Academic version of the exam typically asks the learner to analyse visual information like a chart or diagram, and develop their answer to the question using this information.
Task one Writing for General Training, however, is the comparatively simple exercise of writing a formal, semi-formal, or informal letter. This is consistent with General Training's emphasis on testing the user on their "survival skills" for everyday life in an English-speaking country.
If in doubt, always consult with the organisation that you're applying to in order to make sure that you sign up for the correct version of the IELTS exam. In the case of those who are taking IELTS for migration purposes, you can check the official government website of the country in question.
In almost all scenarios relating to university admissions, IELTS Academic is the appropriate choice to make between the two. On the other hand, IELTS General Training is usually the better option for those who are migrating to an anglophone country.
The countries that request an IELTS General Training certificate for migration include:
United Kingdom
New Zealand
Australia
Canada
Note that moving temporarily to study in another country is not considered migration, so for this purpose IELTS Academic is the appropriate choice.
After deciding which exam format is the right one for your needs, the next decision you have to make is whether to go with the paper-based exam or the computer-based exam style.
Should I take IELTS on Paper or Computer?
This is a decision that affects your exam performance more than is immediately apparent, due to numerous factors.
Here is a list of reasons that for majority of people, the computer-based IELTS exam is the better option:
In the computer format, each candidate is provided with their own set of earphones. Meanwhile in the paper version, one speaker is used for the entire exam hall. As being able to hear what people are saying is absolutely essential for comprehension, this might be the most important factor to consider.
Correcting your answers or doing any kind of editing is much easier on a computer, as you don't have to worry about creating a mess when you inevitably have to make changes to your answers.
On the computer every task is accompanied by the time remaining, meaning that you don't have to break concentration just to check the time on the clock.
In the paper version, candidates more easily make the mistake of not realising that they haven't answered a question. On the other hand, the computer exam notifies the user when not all questions have been attempted.
Exam results are sent to the computer-based candidate between 3 to 5 days, while paper-based examinees have to wait for at least 13 days.
The availability of exams is much greater in the case of computer-based IELTS, as they are logistically easier to carry out for testing centres.
Speaking frankly, there are almost no reasons to choose the paper-based version when you have access to the computer-based format. If for any reason you are not sure if you would be comfortable taking the exam on a computer, you can take advantage of the official and free practice tests that are available here.
How Much Does IELTS Cost?
Regardless of whether you choose to take the paper or computer version of the IELTS exam, the fee for both Academic and General Training modalities is roughly €225.
This fee includes access to all of your exams for each individual module, but does not cover the costs of an Enquiry on Results, nor a copy of the Official IELTS Practice book.
How Do I Sign up for an IELTS Exam?
If you're taking an English course with a language academy, you can simply ask the administration staff to book an exam date for you.
If you want to reserve your own IELTS exam date, fortunately it's very easy and all you need to do is follow the following steps on your computer or mobile:
Go to the IELTS Registration page here.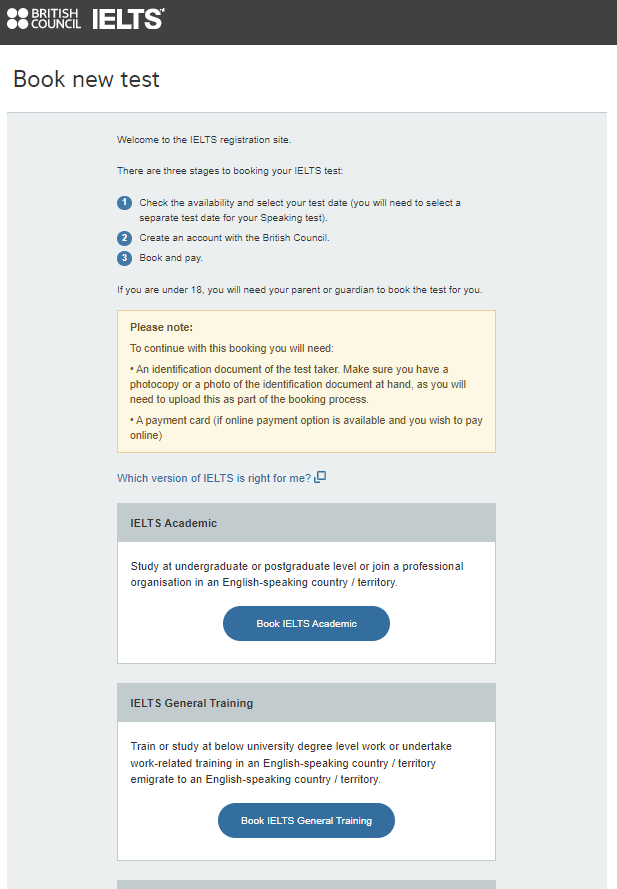 Click on either Academic or General Training depending on which format suits your personal needs. Refer back to the previous section on this topic if you're still unsure.
Choose the territory in which you intend to take your exam. This will take you to a sign up form specific to your region.
You will now be presented with a list of IELTS exam centres, and you just have to choose the one that's best for you.
Now you have to select a date. After you do so, continue to the next step.
Now that you have your exam date assigned, you have to enter your personal details. This includes the bank account with which you intend to pay your fees.
You should now have received an email that lets you know that the payment has been received successfully.
Congratulations, you've just signed up for your IELTS exam! In the following section we'll look at how you can prepare yourself optimally in order to achieve your target IELTS Band score.
IELTS Exam Preparation
You can prepare yourself to take the IELTS test on your own or by joining a specific online or face-to-face course. Before getting started with any other aspect of your IELTS preparation, a helpful way to think about the task at hand is to divide your preparation into IELTS specific skills (knowledge of the exam style and format), and English skills.
| IELTS Skills | English Skills |
| --- | --- |
| Being aware of time limits, ability to skim read to save time, consciously demonstrating the four grading criteria in Speaking and Writing.. | Grammar, pronunciation, listening.. |
When getting started with IELTS, your priority should be to become familiar with the types of questions that are characteristic of each module, as well as the duration of each.

The exam lasts for a total of roughly 2 hours and 45 minutes. Listening, Reading and Writing are examined on the same day, while the Speaking exam can be done a week before or after the other tests. The time allocation for each module is the following:
Listening: 30 minutes
Reading: 60 minutes
Writing: 60 minutes
Speaking: 11 to 14 minutes
Take 10 minutes to watch this video of a real IELTs Speaking exam to get an idea of what to expect:
In the next section you'll find resources that you can use today to start learning what to expect in a real IELTS exam.
Free IELTS Online Study Resources
One of the most reliable sources for IELTS preparation materials is the sample test questions page from the IELTS.org website.
These sample questions come in PDF format, and can be printed on paper in order to emulate the experience of having the Paper-Based exam in front of you. Within these PDFs you can find model responses for the Writing section, which help you clarify what the characteristics of a well-done answer are.
The second free IELTS learning resource you might want to consider comes from the British Council website.
Compared to the previous option, the format of the practice tests here is inconvenient, due to all of the text being stacked vertically on a single page. This forces the user to scroll up and down the page excessively. One possible solution for this is to transfer the text to a Word processing document, and arrange it in a way that's easier to view.
IELTS Essentials is the website run by the IDP, which also offers their own free practice materials for learners. The best thing about IDP is that their website offers practice tests in the Computer-Based format, and imitates the experience of taking the exam very realistically.
Recommended Books for IELTS
Of course, there is much more to work on with improving your English than taking dozens of practice tests. Most likely you will need to build on your foundational skills and knowledge, and since English classes are just once a day, this is when having some books at home can come in handy.
The following is a list of some of the most popular books published by Cambridge Press for IELTS preparation with a brief of the pros and cons for each:
The Official Cambridge Guide to IELTS
Pros:
This is the most comprehensive publication available, and is logically organised into the four categories of Reading, Writing, Listening and Speaking.
This book is particularly appropriate for the person who already has a considerable knowledge of the English language, and who just wants to get reliable guidance and tips on how to approach each section of the exam correctly.
Includes a CD with audio tracks in the same style and cadence used in the exam.
Cons:
The practice tests included in this book are mainly for Academic IELTS, making this an imperfect option for those who plan to take the General Training pathway.
Although the book offers a lot of content with more than 400 pages, the retail price is high when considering the other expenses already involved with getting an IELTS certificate.
English Grammar in Use
Pros:
For those students who still have to improve their English substantially to ensure they achieve their IELTS score goal, this book can serve as an indispensable aid. This book focuses on teaching grammar through real-life context and examples.
If you are the kind of person who is disciplined enough to study alone, this book is one of the most affordable means of improving your understanding of English.
Available with an ebook with integrated audio to help with listening and pronunciation skills.
Cons:
A significant number of learners have been unable to download the audio files that accompany this book. For this reason, if the listening activities are your main interest then you may wish to look for another resource.
IELTS Vocabulary Up to Band 6.0
Pros:
One of the factors that assessment markers are looking for is your selection of vocabulary and how accurately and appropriately you can use less common words and phrases, and in particular phrasal verbs. For this reason, having a resource on-hand to strengthen this area of your English is recommended.
Apart from this particular title, the author Pauline Cullen has published other vocabulary books for a variety of intermediate-high levels. Try to get a preview of the books in order to choose the best level for you and your needs.
Cons:
This book isn't appropriate for those who are still learning the basics of English.
One of the most common criticisms of the book is that the information could be presented in a more engaging way, and this makes this volume more difficult to read for some people.
Mobile Apps for IELTS Preparation
For those who are in the habit of using their mobile phones for more than just communication, the British Council has developed free apps that allow the user to prepare for their IELTS exam.
IELTS Prep App for Android and Apple
Go to your mobile's app store, and search "IELTS Prep App". Confirm that the author of the app is the British Council, as in the image below, to ensure that you're downloading the correct app.
Once you've completed the sign up process, you will be able to access the IELTS Test Sections tab. Here you will find a list of the four categories around which IELTS is organised; Listening, Reading, Writing, and Speaking.
The app offers a total of three practice tests per category, free of charge. Each category also has an additional two practice tests that can be unlocked individually for €6.99 at the time of writing.
Some things to consider while using this app:
The Listening practice test can't be skipped or sped up, so you have to commit to the full duration of 40 minutes. Additionally, this section doesn't allow you to input your answers using your phone so you should have a notebook and pen with you.
The Reading section forces you to scroll a lot, due to the small size of the mobile phone screen. During the real IELTS exam, you will be using a full size desktop monitor, which makes comparing the text and the question much easier.
The Writing practice test shows you some model answers, which appear after you submit your own writing. Users report that this is among the app's most useful features, as this allows you to see what kind of writing the marking staff are looking for.
In the Speaking test you simply record yourself speaking in response to the conversational prompts that you see on screen. This may not seem like the most productive use of your preparation time at first glance, but having the opportunity to listen to how you really speak could make you aware of bad habits, or areas for improvement.
In summary, this app from the British Council has some limitations but is potentially a useful supplement for learners who wish to take advantage of their time while they commute around the city as part of their daily routine, for example.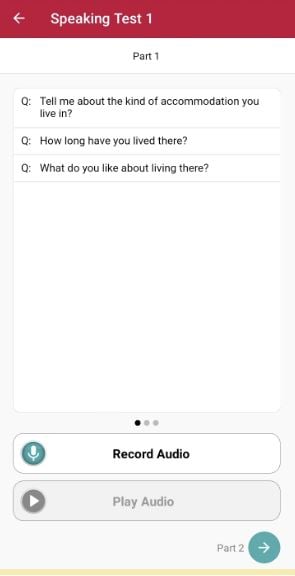 LearnEnglish Audio and Video App for Android and Apple
The British Council also offers a series of podcasts through their LearnEnglish app, which gets updated with new episodes every week. This app can be found for free on the IoS or Android app store:
One of the most popular features of this particular app is that you can download the podcast episodes while you're connected to Wi-Fi, and then listen to them later while you're out and about.
This is a particularly valuable resource for those who struggle with the IELTS Listening module, as the app offers a wide range of content that helps the user get used to how different accents sound, as well as the expressions they use.
If you're having more trouble with Grammar than Listening, the same producers also offer the LearnEnglish Grammar app.
Between all of these free mobile app resources, there is sure to be something that fits your needs as a student of English.
IELTS Exam Preparation Course
One option to make sure you're heading in the right direction is to join a fully personalised online IELTS preparation course with IELTS experts. Combine online group classes or live private lessons to maximise your score.
Alternatively you can join a face-to-face course directly in an English-speaking country near your own country or where you have decided to go to study at university, for example if you plan to go to the UK there are over 175 language schools to choose from. You will find that you can choose the length of IELTS course you need, from one to 50 weeks, to learn in a small group or attend one-to-one preparation.
What if I Don't Get the IELTS Score that I Need?
Even if you are disciplined with your study routine, sometimes you don't achieve the goal that you set out for yourself at the beginning. This can clearly be disappointing, especially if you have a conditional offer from a university that asks for English certification, but the best thing you can do for yourself is try to be objective and ask yourself what went wrong.
Was it your English skills or your specific IELTS skills that caused you to underperform?
Of course, English skills take more time to develop than IELTS skills, but it may be the case that you didn't get the grade you wanted due to a lack of familiarity with the exam itself. To illustrate this point with an example, many people need multiple attempts to pass their driving test even though they migh know how to drive perfectly well.
Let's take a look at the action you can take in a variety of situations:
Reading and/or Listening module results 0.5 points below the requirement
To improve in this area, work your way through the following checklist:
Revise the general strategies for the Reading and Listening modules.
Give specific practice time to the most difficult types of questions in these modules. These are generally agreed to be the multiple choice questions, listening maps, and true/false/not given questions.
After specifically focusing on your weakest areas, use the practice test resources found on the IELTSmember organisation websites.
Book a new exam date and try again!
Speaker or Writing module results 0.5 points below the requirement
If you believe that your exam hasn't been assessed correctly, you can ask your testing centre for a reassessment of your exam from a different IELTS examiner.
This request has to be made within the 6 weeks following the date of your IELTS exam, and the remarking can be for your entire test or just specific modules.
The main thing to be aware of is that the fees for requesting an enquiry are comparable to simply booking another test. Asking for a remarking of your exam could quickly become an expensive mess if the result is the same as the original, so your time and money is likely better spent by studying diligently and then taking another exam.
One of the few situations in which asking for an Enquiry on Results is a realistic option, is when either your Speaking or Writing result is 0.5 points below the result you needed, but not when both were 0.5 below. The reason for this is that the chances are extremely low of an IELTS examiner giving you a more favourable result in both modules.
Your score is 1 tier lower than your requirement in multiple modules
This scenario suggests that improving your IELTS skills would not be enough to push your results to where they need to be. This may be disappointing because you miss out on an opportunity for work or study, but the best decision you can take is enrolling in an English course.
Improving your language skills enough to positively affect your exam result is a process that takes at least three months, and potentially even longer depending on the individual. Give yourself the time you need to improve, and come back to try again at a later date.
Frequently Asked Questions
How long does it take to study for IELTS?
According to a survey conducted by Kanan International among IELTS staff, 77% of those consulted believe that between 6-8 weeks is the ideal period of time for getting yourself prepared for IELTS.
Of course, if your actual English ability is considerably below your target score, then spending even more time on your preparation would be wise.
What is a "good" IELTS score?
As IELTS doesn't give "pass" or "fail" results, what is considered a good score depends entirely on your reason for signing up for the exam.
If your reason for taking the exam is related to university admissions, the following table represents what universities normally request from their applicants:
| Level | English Requirement |
| --- | --- |
| University Foundation | IELTS 4.5 (4.0+ in all modules) |
| Bachelor's Degree | IELTS 6.5 (6.0+ in all modules) |
| Pre-Master's | IELTS 5.0 (5.0+ in all modules) |
| Master's Degree | IELTS 6.5 (6.0+ in all modules) |
Be aware that highly ranked universities and colleges typically ask for an even higher IELTS score, so you must confirm your institution's requirements before you start preparing for your exam.
How long is the IELTS exam?
The exam lasts for a total of roughly 2 hours and 45 minutes. All four modules are examined on the same day, with the time allocation for each being:
Listening: 30 minutes
Reading: 60 minutes
Writing: 60 minutes
Speaking: 11 to 14 minutes
Which professions need high IELTS scores?
The jobs that most often require an IELTS certificate are those which are related to the health care and medical professions, due to the particular importance of communication in these fields.
There are more sectors that can ask for an IELTS certificate, however, so you should check with your potential employer if this is a requirement.
How long is an IELTS certificate valid for?
Your IELTS certificate is valid for two years as of the date of issue. After this expires, you would have to retake the exam to get a new certificate. For this reason, it's recommended that you choose your testing dates with your long-term plans in mind, rather than just your immediate needs.