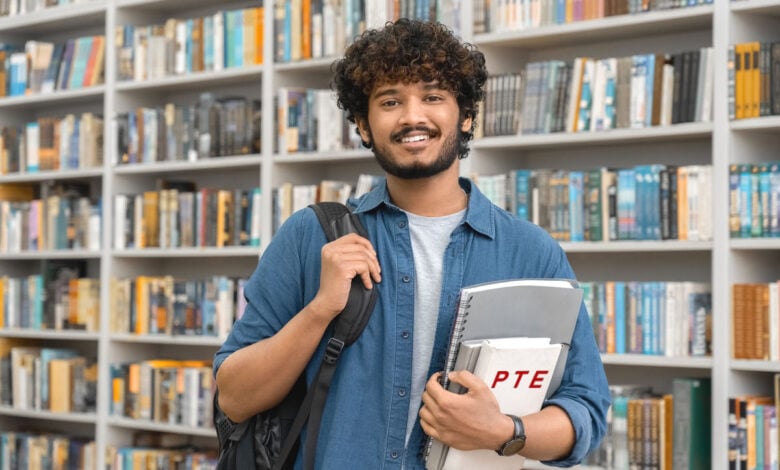 PTE Academic Test Guide – For Studying Abroad or Working Internationally
PTE is the acronym for the Pearson Test of English, and is one of several prominent English language certificates that students, workers, and citizenship applicants can be required to achieve during their application processes for a university place or a new job.
Broadly speaking, all of these types of higher education institutions ask candidates to prove their language skills in order to demonstrate that the student or worker will be able to handle the demands of their academic or working environment if given a placement.
In this guide, you will find out what the PTE Academic and Government tests are and their numerous uses, but also the finer details of this language certification such as the format and scoring system that it uses, as well as the best methods of preparing yourself to get your goal score for being accepted in your prestigious university of choice, and also for taking on your employment ambitions.
PTE Academic Online is not accepted for visa applications, meaning that those who are applying for a visa have to take the in-person version of the PTE exam.
It's important that you keep in mind that there are a wide variety of English certifications, with some of the most popular alternatives being IELTS and TOEFL. Which certification you decide to pursue depends on the requirements of the institution that you are applying for, whether that be a university or employer, or even a government agency that handles Visa requests. With these considerations in mind, you can choose the exam type that best matches your goals.
If you are already familiar with some elements of the PTE exam, then feel free to use the table of contents below to get straight to what you're looking for.
The Structure of the PTE Exams and Its Scoring System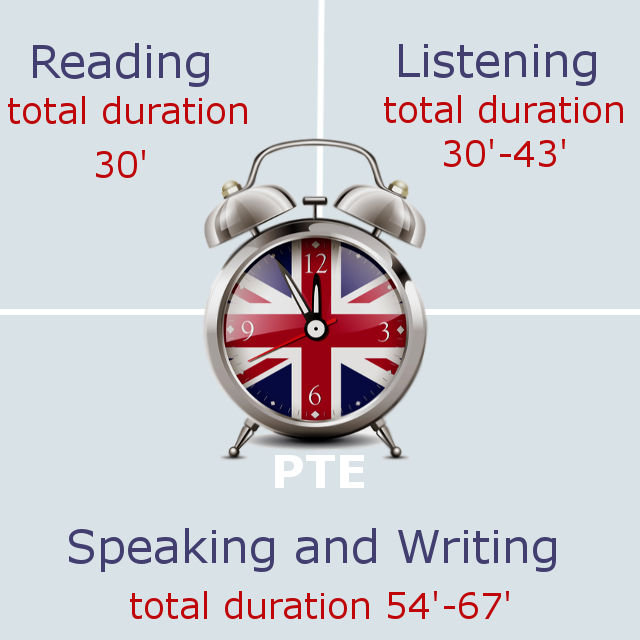 All variants of the computer-based PTE test consist of three separate sections or modules, these are:
If we add it all up we see that the PTE test lasts for approximately two hours.
Speaking and Writing – total duration 54-67 minutes.
Reading – total duration 30 minutes.
Listening – total duration 30-43 minutes.
The questions types that you can expect to see in each of these sections are as follows:
| Speaking and Writing | Reading | Listening |
| --- | --- | --- |
| Personal introduction | Multiple-choice with single answers | Summarise spoken test |
| Read aloud | Multiple-choice with multiple answers | Multiple-choice with multiple answers |
| Repeat sentence | Re-order paragraphs | Fill in the blanks |
| Describe image | Fill in the blanks of a text passage | Highlight correct summary |
| Re-tell lecture | – | Multiple-choice with single answers |
| Answer short question | – | Select missing word |
| Summarise a written text | – | Highlight incorrect words |
| Written essay (20 minutes) | – | Write from dictation |
There are three main types of exams from PTE that serve the majority of applicants' purposes, these include:
PTE Academic Test
PTE Academic Online Test (Not valid for migration purposes in any country)
PTE Academic UKVI (UK applications only)
You can consult our FAQ for more information on learning which test is the right one for you.
How the scores are calculated in the PTE test
Earning a high score that demonstrates to everyone your competence with the English language is a challenging but also achievable short and medium-term goal – all you need is the right plan of attack moving forward.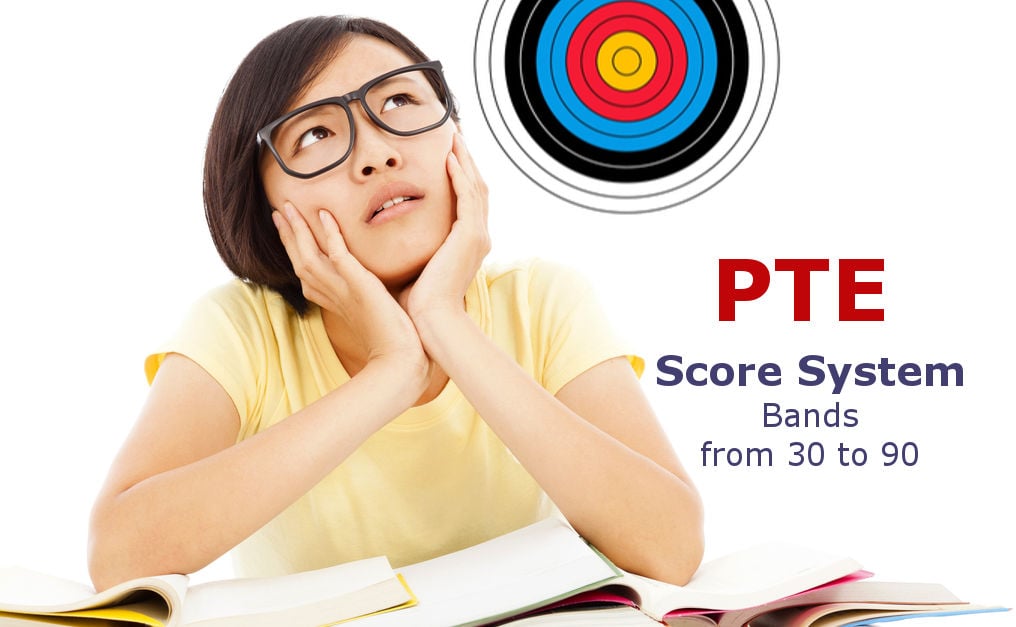 PTE overall score is based on the results of combining the results of your performance on all of the PTE sections, Speaking and Writing, Reading, and Listening. Every candidate has to respond to between 71 and 83 questions, with a range of 20 question types.
The scoring scale that is used in PTE is from 10-90 points. To get an idea of the score bands in the test, consult the following table:
PTE score bands
86-90
83-86
79-83
73-79
65-73
58-65
50-58
43-50
36-43
30-36
The following is a short list of what are considered Enabling skills:
Grammar
Oral fluency
Pronunciation
Spelling
Vocabulary
Written discourse
Correct answers are awarded 1 point each, while incorrect answers simply do not give any points.
Questions that use partial credit scoring give less than the maximum score, with the matter of how many points depending on the particularities of that question.
The communicative skills of listening, reading, speaking and writing are given their own individual scores, and follow the same scale of 10-90 that the overall score follows.
In some university programmes, the communicative skills score might provide useful, additional information for making admissions decisions.
Understanding The Scoring Method of Each Section of The PTE Test
The PTE test is very consistent in the sense that the questions types used are always the same, and this allows candidates the opportunity to specialise and focus their preparation on these particular skills.
In the following sections you're going to find the scoring criteria that is used for each question type in each of the PTE exam modules, which will help you to adapt your to each situation appropriately.
Speaking and Writing Modules
Personal Introduction – This part does not award any score at all, so you can introduce yourself without any pressure. Even so, you can take advantage of this brief introduction to warm up your vocal chords to feel more confident and get ready to speak.
Read Aloud – Uses partial credit, 6-7 questions.
Repeat Sentence – Uses partial credit, 10-12 questions.

Describe Image – Uses partial credit, 6-7 questions.
Re-tell Lecture – Uses partial credit, 3-4 questions.
Answer Short question – Uses correct/incorrect scheme, 10-12 questions.
Summarise Written Text – Uses partial credit, 2-3 questions.
Essay – Uses partial credit, 1-2 questions.
Reading Module
Fill in the blanks – Uses partial credit (for each correctly completed blank), 5-6 questions.
Multiple-choice with multiple answers – Uses partial credit (for each correct response. Penalty is given for incorrect answers), 2-3 questions.
Re-order paragraphs – Uses partial credit (for each correctly ordered, adjacent pair), 2-3 questions.
Fill in the blanks – Uses partial credit (for each correctly completed blank), 4-5 questions.
Multiple-choice with single correct answer – Uses correct/incorrect scheme, 2-3 questions.
Listening Module
Summarise spoken text – Uses partial credit, 2-3 questions.
Multiple-choice with multiple answers – Uses partial credit (for each correct response. Penalty is given for incorrect answers), 2-3 questions.
Fill in the blanks – Uses partial credit (for each correct word spelled correctly), 2-3 questions.
Highlight correct summary – Uses correct/incorrect scheme, 2-3 questions.
Multiple-choice, single correct answer, select missing word – Uses correct/incorrect scheme, 2-3 questions.
Highlight incorrect words – Uses partial credit (for each word. Penalty is given for incorrect answers), 2-3 questions.
Write from dictation – Uses partial credit (for each word spelled correctly), 3-4 questions.
With this information you will now be able to anticipate what type of content you will find within the PTE Academic test, as well as the scoring parameters used for each.
If you decide to take the PTE, you should focus your study efforts on the items listed above that you feel the least confident in.
What Can I Do If I Don't Get The Score I Need in The PTE Test?
It happens to the best of us; sometimes we give our best effort but we still miss our target. It's normal to feel frustrated when this happens, particularly if you have important deadlines for university or Visa applications. The best thing you can do for yourself in these moments is stay objective and figure out why you didn't get the score you expected on your PTE exam.
After a disappointing exam result, many people feel tempted to immediately book another exam date. If you have the luxury of not having a deadline to meet, then it would be much better to give yourself at least another few weeks of preparation time before taking your next shot.
On the PTE score report card you can see the breakdown of your performance in any particular exam. For example: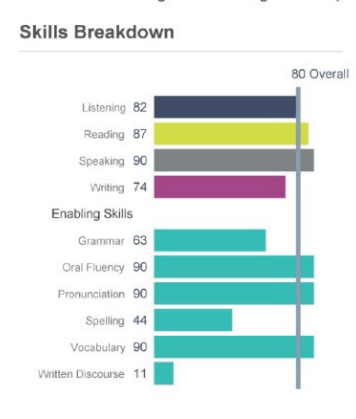 This is an excellent resource for self-improvement, because it allows you to reach an understanding of your weakest areas of knowledge.
The good news is that we can avoid this situation entirely by following a well-structured study routine, following all the best practices that are available for the PTE Academic test.
The Pearson Test of English Fees and The Cost of Additional Exam Attempts
The fees associated with taking a PTE Academic test vary from country to country, with the main reason for this being the different tax regimes in each region. Check out the following table to get an idea of the fees you can expect to pay in the most popular PTE-taking countries:
| | | | | | | |
| --- | --- | --- | --- | --- | --- | --- |
| Country | PTE Academic | PTE Academic Online | PTE Academic UKVI | PTE Home A1 | PTE Home A2 | PTE Home B1 |
| Australia | $385 AUD | $385 AUD | $385 AUD | $325 AUD | $325 AUD | $325 AUD |
| China | $299 USD | – | $299 USD | $250 USD | $250 USD | $250 USD |
| India | ₹14,700 | ₹14,700 | ₹14,700 | ₹12,400 | ₹12,400 | ₹12,400 |
| Nepal | $180 USD | $180 USD | $180 USD | $150 USD | $150 USD | $150 USD |
| New Zealand | $385 NZD | $385 NZD | $395 NZD | $335 NZD | $335 NZD | $335 NZD |
| Pakistan | $215 USD | $215 USD | $215 USD | $180 USD | $180 USD | $180 USD |
| Philippines | $220 USD | $220 USD | $220 USD | $185 USD | $185 USD | $185 USD |
| South Africa | R3200 ZAR | R3200 ZAR | R3200 ZAR | R2700 | R2700 | R2700 |
| Turkey | ₺2150 TRY | ₺2150 TRY | ₺2150 TRY | ₺1825 TRY | ₺1825 TRY | ₺1825 TRY |
| United Arab Emirates | 1050 AED | 1050 AED | 1095 AED | 930 AED | 930 AED | 930 AED |
Apart from these standard fees for taking the PTE Academic and PTE Home tests, there are additional fees under certain circumstances that new candidates should be aware of. These include:
Late registration fees
Rescheduling fees
Cancellation fees
The specific conditions of these fees change depending on where you are in the world, so test-takers are recommended to consult their local testing centre to inform themselves ahead of time in order to avoid any unpleasant surprises!
The Best Way to Prepare for Achieving a High PTE Score
Let's examine the key questions you need to ask yourself and what you need to do to succeed in PTE Academic.
It might seem obvious, but the first step we need to take is establishing what your target score is. These will differ according to purpose, such as university admissions processes, or applying for immigration and employment.
For the majority of candidates, there are three major benchmark scores:
Keep in mind that these are general guidelines and you could be expected to achieve a lower or higher score than those indicated here. The best rule of thumb is to always check with the organisation that you are applying to.
There are three fundamental things you should be thinking about in order to approach your PTE methodically and get an exceptionally high score:
There are 20 different tasks that you can be asked to complete in the PTE, and some of these give you less than 10 seconds to read the on-screen instructions before you start. For this reason, making yourself as familiar as possible with the question styles will make you much more confident as you navigate your PTE test.
You have to develop your strategies and techniques for each task type. Some of the task types are very straightforward and simple, but for tasks such as Summarise Spoken Test, you may have to get used to taking notes while listening. This is just one example, as there are skills to develop for almost every task type.
Practise your skills, and seek expert feedback whenever possible. Taking practice tests is one of the main pillars of an effective study routine, but without human feedback from a knowledgeable source, your results are unlikely to reach the heights they otherwise could.
Apart from the strategic half of your PTE preparation, you of course also have to make sure you are developing the other half; the English skills inherent to each of the PTE three test sections.
Some of the specific skills within each module that PTE rewards include:
| | |
| --- | --- |
| Speaking & Writing | Fluency, intonation, clear and loud pronunciation to help the computer detect your voice correctly, sentence complexity, planning your responses with structure and inside the given time, minimal typos while writing at a fast pace |
| Reading | Time management (maximum 2 minutes per question), skim reading proficiency, grammar discernment, understand punctuation |
| Listening | Effective note-taking during audios, focus on distinguishing the main idea from a supporting idea when listening to a speaker, strategically leave some time to revise the sentence structure and grammar of your responses |
In the rest of this section we'll go deeper in the steps you should take to organise your preparation in a way that earns you an outstanding PTE score, in as little time as possible.
How Much Time Do I Need to Prepare For The PTE Exam?
There's no way to answer this question that will satisfy everybody, because PTE Academic is an English exam, and the time required to achieve the score you need depends on your starting ability as well as your goal score.
Some of the factors that will reduce the time you need to prepare for the PTE test might include:
Having few additional obligations in your life (a full-time job, children to care for, etc)
Possessing a considerable level of English proficiency, meaning that you can focus mainly on learning the PTE exam structure
Being a disciplined student who is able to adhere to an organised study schedule
As a general guideline, most PTE candidates begin to start taking tests after 4-6 weeks of preparation.
Top 10 Tips and Strategies For Getting The Most Out of Your PTE Exam Preparation
If you have never taken a PTE or any other test to determine and certify your proficiency in a foreign language before, the road to being prepared enough to earn yourself a certification of high level competence may seem overwhelming. Take note of these tips and see how you will successfully achieve your goal.
Reserve an exam date as soon as possible. Having a date booked for your PTE Academic exam is the best way to motivate you to take the preparation seriously, as it creates some healthy pressure.

Apart from this, the PTE Academic test is enormously popular in some major cities, and it can be hard to reserve a placement if you leave everything until the last minute.
Determine your current ability level by taking a PTE practice test. If you already know what score your admissions or visa process requires, then your first logical step is to find out how much distance there is between where you are and where you want to be. To make sure this first point of contact with the PTE produces a reliable result, the best thing you can do is take one of Pearson's official practice tests.

If the score you get is higher than the result that you're trying to achieve, then you are ready to start taking your PTE Academic exams.

Give study priority to the section that intimidates you the most. Maybe you're not intimidated by any of the sections, and that's great. However, many students of English have difficulty with phrasal verbs or speaking confidently, so it will benefit your efforts to get a high PTE test score by covering the most challenging areas of the language for you personally.
Practice eliminating bad habits for the PTE Speaking module. As the Speaking part of the test is graded by computer software after you submit an audio recording, it's crucial that you try to speak as 'correctly' as possible. This means that you should avoid hesitation and pauses, the use of "um" sounds while you are considering how to answer, and so on. You should also not try to go back and correct anything you have already said.

The best approach is to use an audio recording app on your phone to make sure that you're speaking clearly and confidently.

Consult our section on the scoring guide to learn when to be careful. You should always attempt every question in the exam in order not to miss out on potential points, but in the PTE test there are certain questions that penalise the candidate for either giving an incorrect answer or not answering at all.
Distinguish between your English preparation and specific PTE exam preparation. You have to improve your English as much as possible, and this is quite obvious for most candidates. You also have to make an effort to become intimately familiar with the structure of the PTE test, so that on the big day nothing catches you by surprise.
Get used to answering simple questions with complex, compound sentences. On many occasions in the PTE test, the test-taker is asked a basic question, and you should avoid the temptation of responding with an equally basic response. In order to qualify for the maximum points on certain types, you have to demonstrate your understanding as much as possible.
Use mainly official study resources. This is particularly important at the beginning of your journey when you are still learning about how the PTE test is conducted and what you can expect to find in it. Later on, you might wish to expand your sources, and this is quite normal.
Always have an objective every time you study. Truly organised and effective students try to have small goals for every study session, and be able to demonstrate any gains in knowledge or ability immediately. The more common approach of studying according to hours and minutes is much less effective.
Don't underestimate passive learning in your free time! Particularly when it comes to improving your PTE Listening skills, you can improve enormously while driving or washing the dishes by tuning in to Podcasts, or similar materials. Whenever you watch a movie or TV show, don't waste your chance to absorb an authentic English listening experience – just put the subtitles on!
The Most Recommended Study Resources For PTE Academic
There are many different types of study resources available for the PTE Academic exams, ranging from books, courses, to mobile apps. The support materials that you can find also range in quality and reliability, so here you will find some of the study resources that successful PTE candidates swear by.
The Official Guide to PTE Academic. The best foundation to start your study effort on is that of the same organisation who created the PTE exam, Pearson. Test-takers particularly praise the access to online questions and sample answer explanations that this book gives you.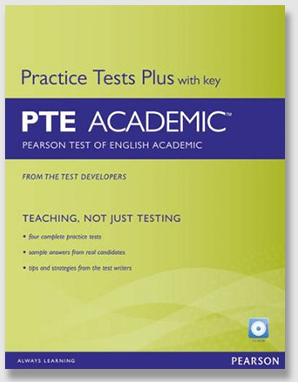 PTE Practice Tests Plus. The focus of this book is, perhaps unsurprisingly, all about practice tests. A major benefit of using this book is that all of the questions are real and have been taken from past PTE exams, which assures you that what you're studying is accurate and trustworthy. You even get access to recorded audios, for the benefit of your listening skills.
The PTE Official Practice App. Having Pearson's free app on your phone allows you to continue practising in everyday situations, like taking the bus for example. Candidates should understand that this mobile app is best understood as a supplement to a study routine that is already well-organised, offering listening activities and practice questions that you can take in your free time.
Tuition from Pearson-associated courses. Pearson works with E2, who offer a variety of services, such as a free one-hour course for helping students understand the particularities of each test type. E2 also offers candidates the opportunity to take graded PTE mock tests, with considerably lower fees than those of taking a real test.
This is a popular option for completing tip #2 of the top ten tips section above.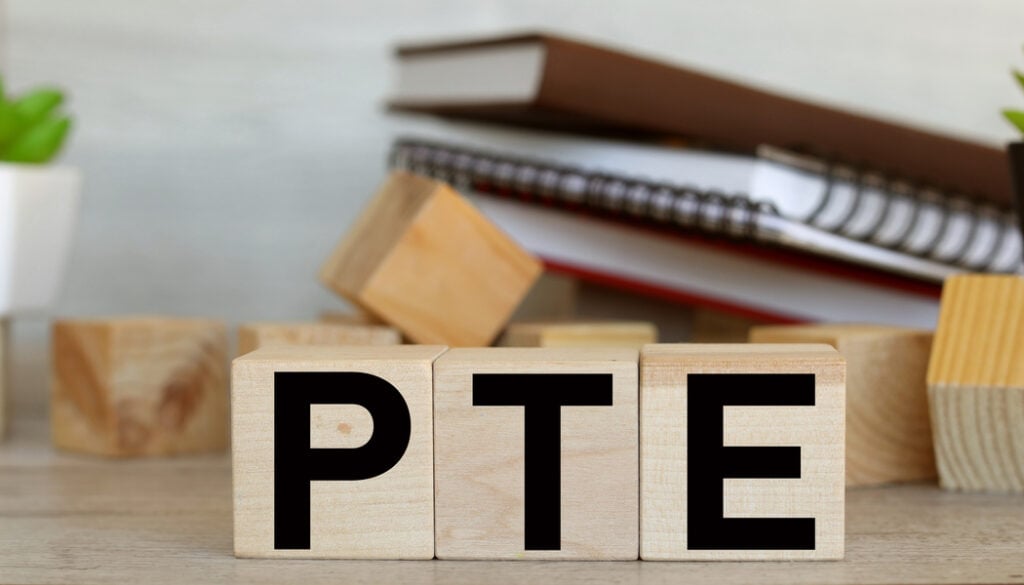 Besides the options outlined above, there is an abundance of learning material available out there in numerous formats. You can take advantage of these resources as long as you take care in discerning which publishers are among those that you can trust to prepare you for your PTE Academic test.
With all of the information contained in this guide, you should be more than ready to decide whether PTE is the right test for you, as well as how to approach this potentially life-changing English language certification.
Frequently Asked Questions About The PTE Test
Which is the most accepted English test for university admission: IELTS, TOEFL, or PTE?
All are highly valued by universities and governments around the world. However, making your decision on which certificate to pursue should depend on which country you intend to work, study or reside in.
For example, the TOEFL enjoys particular prominence in the United States. Meanwhile statistics show that countries like the UK and Germany have a preference for the IELTS certification, with PTE being the most-requested certificate in some parts of Europe.
Simply said, you should investigate what your target destination typically asks for.
How do I book my PTE test?
After creating your account on the official Pearson PTE website, you will have to log in and click on either 'check availability' in the homepage banner, or on the 'book a test' button located in the top left corner.
You will then have to select your nearest testing centre, as well as the date and time that you prefer. Make sure to read the conditions for what is considered a valid form of ID, as this changes depending on the region that you are testing in.
Read on to discover how much taking the PTE can cost, and you'll quickly be able to see when you can get started working towards your certification.
How does the PTE Academic Online test work?
In terms of exam content, there is no difference between the standard PTE Academic test and the PTE Academic Online test.
PTE Academic Online is not accepted for visa applications, which is the main thing to be aware of when comparing it to the standard PTE test centre version. Read here a complete PTE Academic test guide – for studying abroad or working internationally.
Things to be aware of with the PTE Academic Online exam:
You can begin the check-in process up to 30 minutes before your appointment (even so, it will only be available to start at the selected time)
The platform asks you to download their application, so you will need to be using a computer with admin privileges
The platform initiates a system check, which runs a quick test on your microphone, webcam, and internet connection quality
You will need to take a picture of your face, your ID, and the room that you are studying in. If the photos are unsatisfactory for any reason, you can be contacted by the examiner by phone, so it's best to make sure you get everything right the first time to avoid delays
If you have any issues throughout the exam, you can use the chat function to contact a member of staff who is available for your test taking place at that moment
How long does it take to receive your PTE test results?
What PTE score is valid for applying for a migration visa, and in which countries?
Not all countries accept PTE as a valid means of certification, however in those countries where PTE Academic is accepted for migratory visa purposes, the standard PTE score requirement tends to be in the 65-79 PTE score bracket.
Due to the changeable nature of visa requirements, it is recommended to consult the official government website of your destination country.
How to choose the right PTE test type?
The answer to this question depends on multiple factors, such as your destination and what you intend to use your PTE certification for.
Fortunately for PTE candidates, the official Pearson website offers a tool where prospective test-takers can select the country they want to go to, and what you would like to do in that country. Once you do this, you will be shown all of the PTE exams options that would be appropriate for your circumstances.
How to send your PTE test results to a university or government agency?
PTE exam scores have to be sent to institutions via Pearson's online portal, while logged into your account. Click on the "View score reports" tab", and from there the "Send scores" tab.
Please note that all paper and PDF submissions are considered invalid.